NCCAOM Acupuncture PDA Package #3 - 60 PDAs: $299.40
60 CEUs or PDAs Required every 4 years:
22 PDA minimum up to 52 of AOM – ABT – BIO
2 PDA of Safety (SA)
2 PDA of Ethics (ET)
4 PDA of CPR Course. Note from NCCAOM: There may be some changes effective January 1, 2024 to the current CPR requirements and two (2) hours in-person of CPR may be added to the requirements.
---
NCCAOM 60 CEUs/PDAs Package:
Ethics 2 CEUs/PDAs

Correct Clinician-patient Relationship 2 CEUs/PDAs

Safety 2 CEUs/PDAs

Cupping Risk Prevention and Contraindications 2 CEU/PDAs

AOM – ABT – BIO 52 CEUs/PDAs

Bloodletting Acupuncture 21 CEUs/PDAs
Treatment of Cough Caused by Disorders of Zang-Fu Organs in Addition to the Lungs 10 CEUs/PDAs
Analysis of Shoulder Pain in Biomedicine 5 CEUs/PDAs
Prevention of Injuries of Internal Organs in Acupuncture 2CEUs/PDAs
Privacy Protection in Telemedicine 2 CEUs/PDAs
TCM Treatment of Headache 4 CEUs/PDAs
TCM Analysis of Diarrhea 4 CEUs/PDAs
TCM Analysis of Insomnia 4 CEUs/PDAs
We report Acupuncture CEU/PDAs to NCCAOM immediately. Please note, CPR course completion certificates are the exception and must be submitted by the diplomate.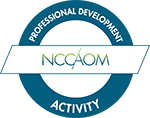 Buy Now