NCCAOM Acupuncture PDA Package #2 - 50 PDAs: $249.50
60 CEUs or PDAs Required every 4 years:
22 PDA minimum up to 52 of AOM – ABT – BIO
2 PDA of Safety (SA)
2 PDA of Ethics (ET)
4 PDA of CPR Course, Note from NCCAOM: There may be some changes effective January 1, 2024 to the current CPR requirements and two (2) hours in-person of CPR may be added to the requirements.
---
NCCAOM 50 CEUs/PDAs Package:
CPR: 4 CEUs/PDAs
Ethics 2 CEUs/PDAs

The Impact of Electronic Devices on Patient Care 2 CEUs/PDAs

Safety 2 CEUs/PDAs

Needle Breaking in Acupuncture 2 CEU/PDAs

AOM – ABT – BIO 42 CEUs/PDAs

Usage and Contraindication of Moxa 20 CEUs/PDAs
Treating the Zang Organs With Seasonal Features 12 CEUs/PDAs
Analysis of Knee Pain in Biomedicine 5 CEUs/PDAs
Analysis of Lower Back Pain in Biomedicine 5 CEUs/PDAs
We report Acupuncture CEU/PDAs to NCCAOM immediately. Please note, CPR course completion certificates are the exception and must be submitted by the diplomate.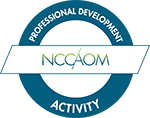 Buy Now